Applying flags to MODIS ocean colour (OC) images

Authors: Deon Louw, Val Byfield, Stewart Bernard and Christo Whittle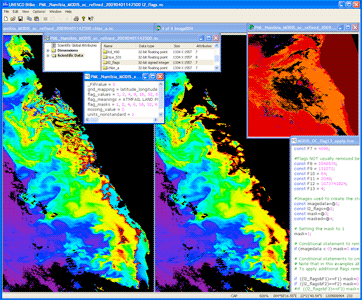 Screenshot from the lessons showing the uncorrected chlorophyll image (left), the flag image (top right), the formula to apply the flags and the masked chlorophyll image (right).

EAMNet SST and ocean colour data are supplied with flag codings that give you information about each pixel. Flag-codings are classification or quality flags stored as per-pixel bit fields in 'flag bands'. The l2_flags data supplied in each image file contains supplementary information about each pixel, which indicates such things as where there is land, sun glint, invalid or low quality data on the image.
This lesson introduces the bitwise operators needed to extract and apply the flags. The main example here is the application of flags to ocean colour data. However, the method also applies to SST images, and the SST flags are briefly discussed.
By the end of the lesson you should be able to:
Understand the flags relevant to MODIS SST and ocean colour products
Use and modify the Bilko formula documents supplied with the lesson to apply the different flags to the images.
Assess to what extent the mask created by a particular flag or combination of flags has succeeded in eliminating bad data, and whether or not the masking may have been excessive (i.e. in masking data that might still provide valuable information.)
Download the lesson:
Obtaining similar data
MODIS Chlorophyll data at 1km resolution, based on the EAMNet data product, can be downloaded from ChloroGIN Africa:
Select the region you want from the map, and select the EAMNet option from the alternatives by clicking 'View'. This takes you to the data server maintained by the Remote Sensing Group at Plymouth Marine Laboratory.
Where data is available, click on the image to see it in full resolution.
Under the larger image, you will have the option to download the NetCDF data