9. Predicting seagrass standing crop from SPOT XS satellite imagery
Author: Dr Alasdair J.Edwards, University of Newcastle, UK.
Aim of Lesson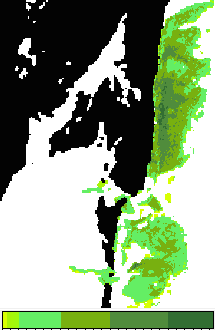 To learn how to derive a map of seagrass standing crop from a SPOT XS or similar appropriate image.
Learning Objectives
To understand the importance of field survey and the methods used to calibrate imagery and thus allow seagrass standing crop to be estimated.
To investigate the relationship between seagrass standing crop and the single depth-invariant "bottom index" image derived from SPOT XS bands #1 and #2 (green and red wavebands) using field survey data referenced to UTM coordinates.
To learn how to mask out non-seagrass areas of the SPOT XS depth-invariant image.
To learn how to construct a palette to display seagrass standing crop densities effectively.
To analyse the image in order to estimate areas of dense, medium and sparse seagrass.
How to download the lesson
| | | | | | |
| --- | --- | --- | --- | --- | --- |
| Previous: Lesson 8 | Last update: 20 August 2018 | Contact | | Site Policy | Next: Lesson 10 |